Finnish Vocational Qualifications at Varala
VOCATIONAL QUALIFICATION IN SPORTS INSTRUCTION:
A vocational qualification in sports instruction allows the professional skills acquired at work or in practical life situations & education to be demonstrated by an evidence based approach. Currently, all vocational qualifications are instructed in the Finnish language. However, Varala can potentially accomadate large groups for English language certification courses. Please contact us for further details.
Competences acquired after completion:
Safely instructs sports with different clients
Utilizes different types of exercise, sports, and operating environments in sports instruction
Prepares exercise plans promoting health and physical functional capacity for client
Organizes sports or competitive events
FURTHER VOCATIONAL QUALIFICATION IN COACHING:
Competences and Outcomes acquired after completion:
Safely work as a trainer or coach in a professional setting
Understand the basics of athlete-centered environments. Monitoring athletes holistic development and creating safe training situations
Facilitating and promoting athlete-centered training environments
Supporting and monitoring athlete's well-being and overall developement.
SPECIALIST VOCATIONAL QUALIFICATION IN COACHING:
Competences and Outcomes acquired after completion:
Skills needed to manage organizational coaching activities and develop quality coaching systems as well as to management skills and best practices.
Ability to coach and act in positions related to the management and development of coaching in non-profits, the public sector, or the private sector.
Facilitating and promoting leading coaching methods in national/local sports clubs and non-profits.
In the public sector, holders of the specialist vocational qualification in coaching work in sports federations, regional organizations, or sports academies.
Contacts:
Heli Valkama
VAT Degree Coordinator & Professional Teacher
heli.valkama@varala.fi
Jaakko Haataja
Degree Coordinator & Professional Teacher
jaakko.haataja@varala.fi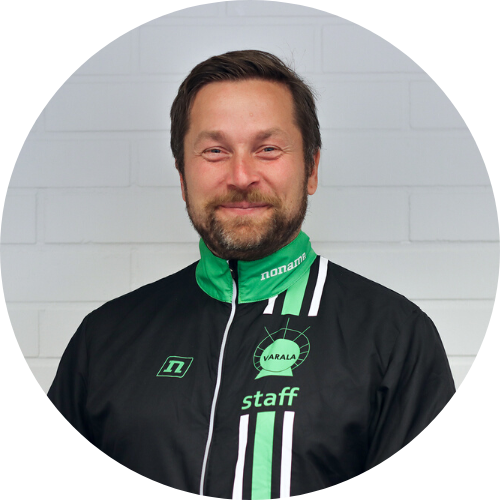 Juha Antikainen
Vocational Qualification Coordinator
juha.antikainen@varala.fi
Marjanaa Eskelinen
Principal
marjaana.eskelinen@varala.fi