Our customers tell us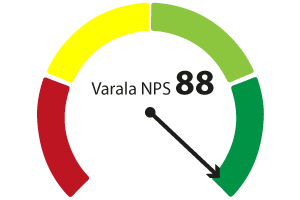 Openness and transparency are the starting point for successful and uncomplicated cooperation wit...
"We have used Varala as our course venue for several years, where we run dozens of courses ...
Tarja Arvola, Puheenjohtaja, SOMTY
"The start of our meeting / exercise day in the fireplace area was great in the sunshine! E...
TP-Tools, Tyhy
"We got a seminar, a miniature fair and a fun exercise event for 140 people in one day."
Cinia, Nina Eklund
"The back school was a surprise and the movements have continued in the workplace. The back...
Puolustusvoimien tutkimuslaitos
"Stunning beautiful natural setting for log saunas" "Wonderful place, friendly ...
"A functional entity from versatile facilities to catering"
"The setting for a meeting day and evening in the middle of nature and practically in the m...
#varala
Add a picture to Instagram, Twitter, or Facebook using the #varala or #varalan Sports Institute hashtag. This will make your post appear on the social wall.