Tampere
Tampere is the third largest city in Finland and the largest inland centre in the Nordic countries.

Currently there are 238 140 inhabitants in Tampere (year 2019), and close to half a million inhabitants in Tampere Region, which comprises Tampere and its neighbouring municipalities.

Tampere's population density is 448 per square kilometre. Tampere is one of the three most rapidly developing regions in Finland. It is a centre of leading-edge technology, research, education, culture, sports and business.
Close to nature
Tampere's city centre is surrounded by lake and ridge scenery, sited on an isthmus between lakes Pyhäjärvi and Näsijärvi. The Tammerkoski rapids run through the city.Pyynikki, which was formed by the action of ice and sea more than 10,000 years ago, is the world's highest gravel ridge. At its highest it rises 80 metres above Lake Pyhäjärvi and 160 metres above sea level.

There are 200 lakes and ponds in Tampere, and a total of 450 in the entire region.

24 per cent of Tampere's surface area is water and 76 per cent land. Over 19 per cent of the land has a town plan.

There are numerous nature reserves in Tampere. Pyynikki and Viikinsaari near the city centre are the best known of them.

Parks and green areas amount to 2,400 hectares, approximately 100 square metres per inhabitant. The city also has four allotment areas. The Hatanpää allotment, established in 1916, was among the first in Finland.
History
The City of Tampere was established by King of Sweden Gustav III in 1779, on the bank of The Tammerkoski rapids.

Tampere has been an industrial pioneer in Finland since the very beginning. Finland's first paper mill started operation in 1783, and the first paper machine was engaged at the J.C. Frenckell & Son's factory in 1842.

The cotton factory established in 1820 by James Finlayson grew to become the country's first large-scale industrial establishment. The first electric light in the Nordic countries was also lit in Finlayson's modern production facilities in 1882.

The city's engineering industry was bolstered by the manufacturer of grinding machines and water turbines Tampereen Pellava- ja Rauta-Teollisuus Oy (Tampella), which was established on the upper reaches of the Tammerkoski rapids in 1861.

By the beginning of the 20th century, Tampere was the largest industrial city in Finland.

Tampere is still the centre of Finnish industry today. Versatile research and education and cooperation between companies and universities have maintained and further developed the competitiveness of the region's industry.

Varala
Founded in 1909, Varala is a pioneer at the sports institute scene in Finland, especially in the field of women's gymnastics. The institute was originally founded to promote women's physical education. The strong and devoted women who founded the institute strongly believed that someday their efforts in promoting sports education would be rightly understood and recognised.
To this day Varala continues to be a leading force as a sports education. We also provide in-depth knowledge in sports in the form of courses and camps, group meetings and recreational days as well as training services.
Easily accessible
Located right in the middle of Tampere, Varala is easily accessible with both public and private transport. Local bus number 25 runs from the centre of the city right next to Varala three times in an hour. We are only 3km away from the coach station, 4km from the railway station and 16km from the Pirkkala airport. By car, it only takes 5 to 10 minutes to reach us once you get to Tampere.
Safe and peaceful with an outstanding landscape
The forests of Pyynikinharju and Lake Pyhäjärvi astound with their beauty. Here you have everything you need in one place – accommodation, catering services, exercise and lecture facilities and saunas overlooking the lake. We keep our grounds cosy and secure.
Kind hearted and relaxed
We aim to create a truly pleasant atmosphere here at Varala.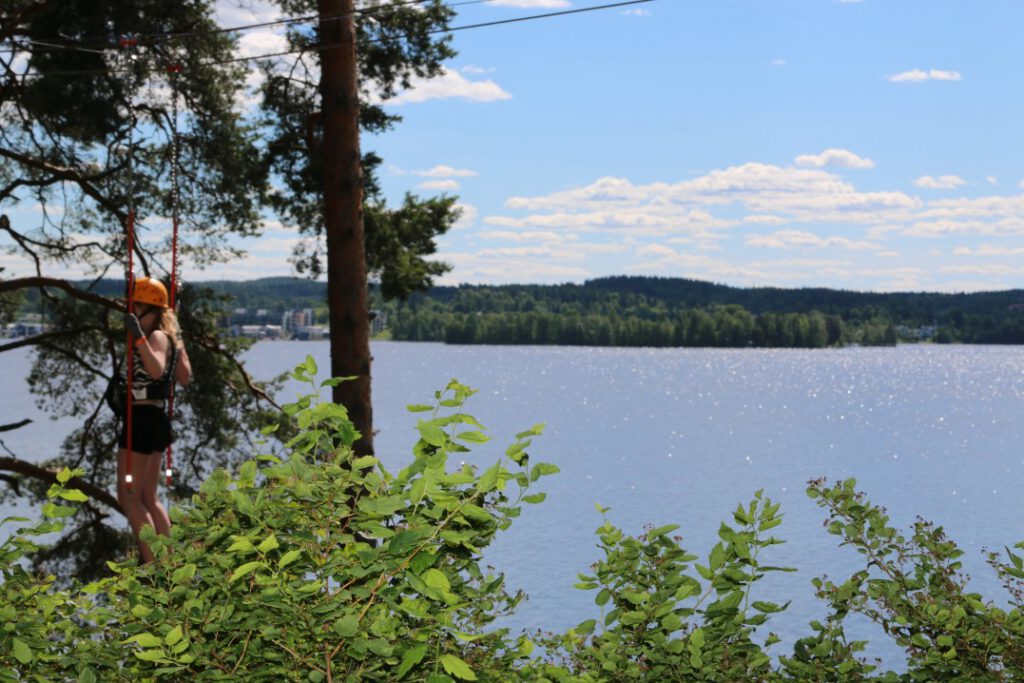 Resourceful and friendly staff ensures an enjoyable visit
Our own full-time staff knows how the things are run. Varala is just the right size for us to know the people we are working with. We know how to put theories to practical use as we train and educate the future professionals in the sports industry. We have excellent opportunities for sport specific education thanks to our proficient trainers.
Way to the heart is through the stomach
Our kitchen is known for their standards for excellence, whether it is lunch for students or a specifically catered menu for a special event. Our all-inclusive services include breakfast, lunch and dinner with additional evening snack during Sports camps and Family Sport events. We often deliver dinners to Rantasauna building for groups to enjoy with their sauna evenings.
We are known for simplicity
It only takes one phone call or an email to arrange everything you need to guarantee a successful event: accommodation, catering services, training and lecture facilities, exercise programmes and saunas by the lake. Professionals at the Testing Lab will give you guidance for staying in shape and improving in the direction you want. We offer more than 50 different options in sports and fitness for you to choose from on top of the excellent opportunities the surrounding nature has to offer. In June 2015 we welcomed the adventure park Flowpark Varala on our grounds adding even more opportunities for our guests. All you need are suitable clothes for exercising and we provide the equipment and space. As we are only 3km from the centre of Tampere, there are countless opportunities for some additional activities such as shopping, cinema, theatre and concerts to enhance your experience.